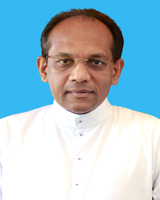 Archpriest Very. Rev. Dr. Augustine Koottiyaniyil
Deva Matha College has moulded the destiny of hundreds of people for a better tomorrow. The College has emerged as a leading centre for teaching, learning, and research in the field of higher education. I am happy to note that the staff and students of the college are constantly working hard to attain the vision and mission of the college. The reputation, the college has acquired and established over these years of its excellence is due to the dedication and selfless commitment of teachers, supporting staff, and the students. We appreciate the dedication and the selfless service of the great teachers of the past. This rich legacy is carried on by the present generation of teachers who are striving sincerely to take the college to even greater heights.
Let us bow our head before the Almighty for His countless blessings. Let us acknowledge the intercession of our heavenly patron.
Wishing you all the best.
Archpriest Very Rev. Dr. Augustine Koottiyaniyil